R.series non-illuminated Ø16mm domed
The R.series is a range of vandal-resistant pushbuttons that are designed to improve the durability and strength of control panels.
These pushbuttons are protected to IK08 and IP65, which makes them ideal for use in exposed public areas or aggressive industrial environments.
Different versions available:
Ø16

Materials: Stainless steel, brass, nickel-plated brass

Domed actuator

Switching: 1NO

Pin terminal or screw terminal
Access control, security systems

Exposed public areas: ticketing machines, vending machines, kiosks

Industrial: machinery and factory equipment..
ELECTRICAL CHARACTERISTICS
Switching rate:
Electrical life (full load):
Insulation resistance
Contact resistance:
Dielectric strength
---
ENVIRONMENTAL CHARACTERISTICS
Temperature:
Vandal resistance:

Sealed to

IP65

RoHs
---
MECHANICAL CHARACTERISTICS
Actuating force
Mechanical lifetime
---
Contact arrangement:
Function:
Terminals:

Pin terminal 2mm x 0.5mm and Screw terminal
STANDARD REFERENCES

The references below to replace the symbol "Φ" ?? by the code of the desired material
S = Stainless Steel
N = Nickel-plated brass
SB = Brushed stainless steel

OUTPUT: SCREW TERMINAL: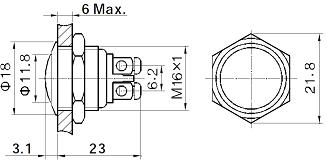 OUTPUT: TERMINALS (2x0.5mm)