ECO.series common point 12 and 16 keys
The EOZ ECO keypads are suited to all indoor applications including data-entry systems, remote controls, telephone, point of sales terminals or alarm systems.
The ECO range of low-cost, flush-mount keypads are economical devices available in 12-key telephone style and 16-key hexadecimal layouts.
Mounting is from the back of a panel using fixed studs.
The degree of keypad protection is IP40 (front side).
To ensure integrity of contacts and lower switch ratings, the contacts are gilded and the external connection to the keypad is by means of a pin header on the back.
The electrical keypad circuit can be supplied in common point.
The keys are made of polycarbonate.
Standard markings are hot stamped. Customized symbols and markings are available on request.
ELECTRICAL CHARACTERISTICS
Interface:
Operating voltage / current

Nominal 24V, 20 mA

Maximum voltage 24 V

Minimum voltage 500 mV

Minimum current 10 mA

ESD
---
ENVIRONMENTAL CHARACTERISTICS
Temperature:

Operating: -20°C to +60°C

RoHs compliant
---
MECHANICAL CHARACTERISTICS
Actuation force
Key travel:
Lifetime (cycles / keys):

1 million cycles of operation per key
12 Key version with

PHONE

marking (packaging of 10 pcs)

Key cap

Part numbers

Plastic white

ECO.12100.06
Version 16 keys hexadecimal standard engraving "and 1.2 ... 9.0 A, B, C, D, E,F"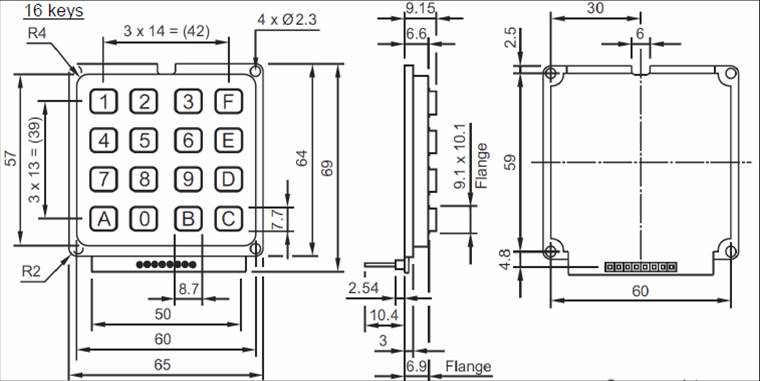 12 Key version with TELEPHONE marking (packaging of 10 pcs)
Key cap
Part numbers
Plastic white
ECO.12100.06
Plastic white
ECO.12150.06
16 Key version with

HEXADECIMAL

marking
Key cap
Part numbers
Plastic white
ECO.16250.06
Matrix circuit: Each key represents the junction between two points of the terminal connector depending on its position with respect to the keyboard lines and columns.
Common point circuit: Each key represents a terminal among "n" keys with respect to a single common point.